L Ladybug
From Spydiewiki
Jump to navigation
Jump to search
The L Ladybug was introduced in 1990 and is currently still available. The Ladybug is Spydercos smallest FRN lightweight knife and can for example be attached to a keychain.
Generations
Three L Ladybug generations can be differentiated. They are described in the following.
           1998             2002
           |- Generation 2 -|
|-------- Generation 1 --------|- Generation 3 ->
1990                           2007

Generation 1
The first Ladybug variations introduced in 1990 all have a modified clip-point blade (the Ladybug was first listed in the 1990 Spyderco price list, and the 2003 Spyderco dealer catalog mentions 1990 as the year the Ladybug was introduced).
Throughout the years many different handle colors were available. Blade steels used for first generation Ladybugs (L1) are GIN-1/G-2, AUS-8, AUS-6, and ATS-55. In the "regular" offering of Spyderco only blades with PS edges were available till 2003. From 2004 till 2006 PE and SE were available instead.
Intentionally targeting the Japanese market only, additional color variations and blades with plain edges before 2003 were produced. Part of these variations made it back to US and European shops (at least Golden Edge Cutlery and Ironstone in the US and Klötzli in Europe... more shops, details???).
Several Ladybug & Micro-Light (Photon) combinations were available with L1 models, e.g.:
Combination of differently colored Ladybugs with a black Micro-Light (Photon). Listed in the Ironstone catalog.
LFG Ladybug Photon II Combo in the 2004 Spyderco catalog (SKU FL01LFG)
Generation 2
The second generation Ladybug (L2) is a combination of the L1 handle (black FRN variation only) with a Sheepfoot Blade and serrated edge.
Generation 3
The third generation of the Ladybug (L3) was introduced in 2007. The most prominent modifications from the L1 are
a modifed handle shape,
addition of a Boye dent,
switching to VG-10 blade steel, and
an enlarged Spyderco round hole.
Appearance in catalogs
The L Ladybug appeared in all annual Spyderco product catalogs since 1991? (older, newer):
Ladybug 1 (1995/1996 Spyderco catalogs not verified):

LBK: 1993-2006 Spyderco catalogs
LBL: 1994-2003 Spyderco catalogs
LFG: 2004-2005 Spyderco catalogs
LGR: not found in a catalog so far
LGY: 1994 Spyderco catalog
LPN: mentioned in the 1994 Golden Edge Cutlery catalog
LRD: 1994-2003 Spyderco catalogs
LYL: mentioned in the 1994 Golden Edge Cutlery catalog
LCF: mentioned in the 1998 and 1999 Spyderco catalogs and the 2000 Spyderco dealer catalog

Ladybug 2 appeared in the 1999-2002 annual Spyderco product catalogs
Ladybug 3 appeared in all Spyderco product catalogs since 2007
Designer
History, mentionings from the forums etc.
Discussion about unavailability of PE Ladybugs in 2000 in the Spyderco forum.
Discussion about Ladybug with gray handles and PE availability (2003 Spyderco forum).
Another discussion about colors and PE variations available in Japan (2006 Spyderco forum).
Information from the Spyderco catalog on the web
LBK3:
"It attaches to your keychain and is nearly as small as your car keys, Spyderco's smallest lightweight knife is the Ladybug. Made of VG-10 stainless steel, the hollow ground blade comes in a SpyderEdge or PlainEdge configuration. This modified clip-point blade style is matched up with a black, lightweight handle of fiberglass-reinforced nylon resin making the entire knife weigh only 0.6 of an ounce (16.4 grams). The LBK3 doesn't have a clip but rather a lanyard hole for attachment to a keychain or lanyard. Like its larger counterparts (and all Spyderco knives) the Ladybug3 packs tremendous cutting power and can take on both fine and heavy cutting tasks." [2]
See also: LBK[3], LFG[4], FL01LFG[5], LBKII[6], LSS3[7], LORP3[8], LWHS3[9], LPRP3[10], LYL3[11], LBK3HB[12].
Variations
All Ladybug variations are made in Seki-City, Japan, and have a Back Lock locking mechanism.
Variations of the Ladybug 1
Variations of the Ladybug 2
Variations of the Ladybug 3
Most collectible variation
The Carbon fibre variation seems to be the most coveted by collectors. Grey PE in USA box would be a contender for the most collectible variation if anyone can confirm it exists.
Questions regarding collecting the Ladybug
There are open questions marked with '?' above. Any answers?
Technical information
Measurements (mm and grams) of the L Ladybug:
| | | | | | | | |
| --- | --- | --- | --- | --- | --- | --- | --- |
| Variation | Length overall | Length closed | Length blade | Length edge | Hole Ø | Blade thickness | Weights |
| Ladybug 1 and 2 FRN | 110mm | 64mm | 49mm | 44mm | 7mm | 2mm | 16g |
| Ladybug 1 CF | 110mm | 64mm | 49mm | 44mm | 7mm | 2mm | 17.2g |
| Ladybug 3 FRN | 111mm | 62mm | 49mm | 43mm | 9mm | 2mm | 18g |
| Ladybug 3 SS | 111mm | 62mm | 49mm | 43mm | 9mm | 2mm | 34g |
| Ladybug 3 FRN-HB | 110mm | 62mm | 48mm | 41mm | 9mm | 2mm | 18g |
Measurements (inches and ounces) of the L Ladybug:
| | | | | | | | |
| --- | --- | --- | --- | --- | --- | --- | --- |
| Variation | Length overall | Length closed | Length blade | Length edge | Hole Ø | Blade thickness | Weights |
| Ladybug 1 and 2 FRN | 4 5/16" | 2 1/2" | 1 15/16" | 1 3/4" | 9/32" | 5/64" | 0.5oz |
| Ladybug 1 CF | 4 5/16" | 2 1/2" | 1 15/16" | 1 3/4" | 9/32" | 5/64" | 0.6oz |
| Ladybug 3 FRN | 4 3/8" | 2 7/16" | 1 15/16" | 1 11/16" | 11/32" | 5/64" | 0.6oz |
| Ladybug 3 SS | 4 3/8" | 2 7/16" | 1 15/16" | 1 11/16" | 11/32" | 5/64" | 1.2oz |
| Ladybug 3 FRN-HB | 4 5/15" | 2 7/16" | 1 7/8" | 1 5/8" | 11/32" | 5/64" | 0.6oz |
References
Pictures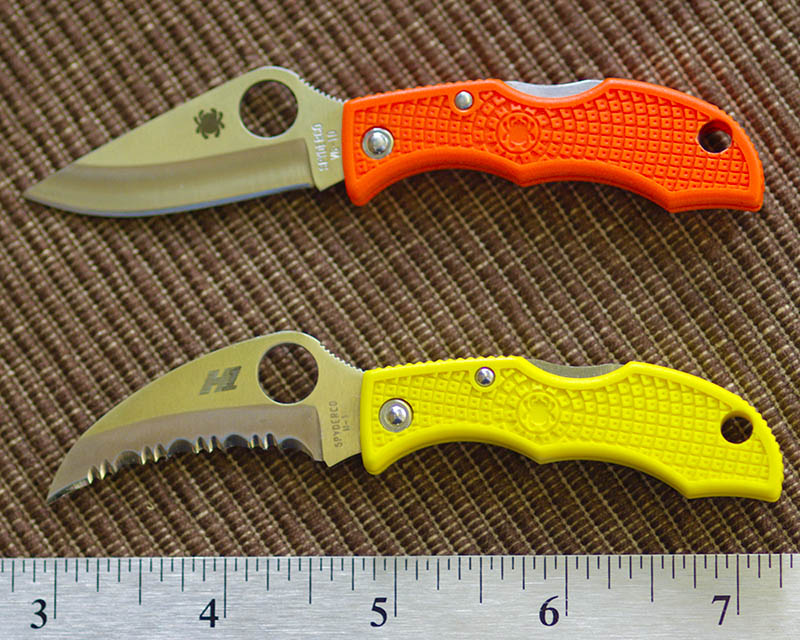 Categories