Collectors club
From Spydiewiki
Jump to navigation
Jump to search
The Spyderco collectors club is an offer to collectors of Spyderco knives. The collectors club gives you the possibility to receive all Spyderco knives made, with your number on them. There is of today 200 available numbers opposed to before 1997[1] when only 100 numbers were available. The numbers before 2000 were engraved the traditional way, sometime in 2001 that changed to laser engraving.[2] The Variant- designator is believed to have been added when the club was increased from 100 to 200 numbers in 1997[3].
The Collector chooses a number from the list of open ones and then choose from the possibilities below.
As of today there's two possible ways to be a member of the collectors club:
1. All variants- The collector receives one of every variation of knife made by Spyderco. In practical terms this means that if Spyderco makes a knife with 2 types of handle and both types of handle in 3 different edges, the collector will receive 6 knives.
So, when the C106 Tasman Salt was released, the all variants collectors got the following: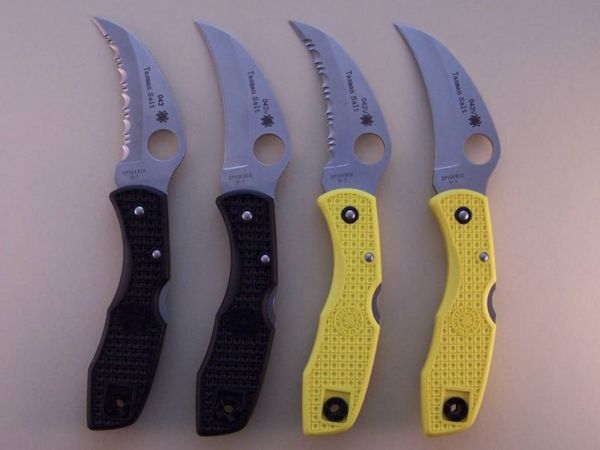 2. Main models only- The collector receives new SKU's only, and the model of that SKU that Spyderco decides is the main model. Continuing with the picture above, the Main collectors would only get the Black SE model of the C106 as that was the main model.
Exceptions:
The Mule- team knives had the MT01 (See MT Mule Team for details) in 52100- steel as the Main, and then all collectors got to choose wheter to receive all the others. The others will then be marked with the collectornumber and a V for Variant.
The C92 Kopa had the Black Micarta C92BMP as main and all collectors got to chose if they wanted that single one or all variants.
Collectors knives will be numbered with a collector number 059 for instance, and then the variants will have a 059V if the collector chooses to receive all variants (as in the picture above).
Oddities:
When Spyderco released the Hossom series of Fixed blades, the FB16 Jerry Hossom Forester was the main, and the remainding three knives in the series, although they had different SKU's, where considered variants due to the fact that they only differed in size.
2009 Update
In 2009, the Spyderco Collectors Club was updated. Additional details can be found in this thread on the Spyderco forums.
Spyderco Collector Program
Definitions:
Main Piece:
A new model number: C101, C102, etc.
A design sequence number: Manix2, Delica4, etc.
Will be a PlainEdge (unless it is only being produced with an edge configuration other than PlainEdge
Variation:
A different color handle, materials (handle and blade), edge configurations, trainers, etc
Sprint:
Anything produced by Spyderco in a limited production quantity, announced ahead of time as a Sprint Run and in what quantity it will be produced
Set:
Anything planned and produced by Spyderco in a limited production quantity AND more than one in the series: Mule Team, Kopa, etc

Collector Enrollment Levels:
Bronze Collector:
Receives Main Pieces Only
Does NOT receive Sprints or Variations
Does NOT receive Sets unless added on (see below)
Silver Collector:
Receives Main Pieces
Receives Sprints
Does NOT receive all variations
Does NOT receive Sets unless added on (see below)
Gold Collector:
Receives Main Pieces
Receives Sprints
Receives Variations
Does not receive Sets unless added on (see below)
Optional Add ons: Sets: Sets like Mule Teams, Kopas, etc. will be offered separately for the collector to take all of the set. This will be offered at the time the collector signs up based on any sets in progress or will be offered as Spyderco introduces a new set
References
↑

NOT Absolute information, but our best guess

↑

We have established that the C13PBK Pro-grip had engraved numbers and the C71 Salsa had the number laser engraved. This leads us to believe that the change happened about 2000. If you have an earlier knife with the number lasered or a newer knife with the number engraved, please email us

↑

Again NOT Absolute information, but our best guess. If you have a knife from before 1997 with a Variant- designation, please e-mail us
Categories