C90 Stretch
From Spydiewiki
Jump to navigation
Jump to search
The C90 Stretch started as a pet-project lockback knife design. Spyderco's owner and chief designer made it for his personal use, incorporating features he wanted. He wanted high performance blade steel with edge retention super-powers for outdoor cutting: things like wood, rope and anything encountered in the wild. It had to work equally well indoors on cardboard, mail and fingernails. He sized it so it wouldn't scare non–knife people.
Appearance in catalogs
The C90 Stretch Lightweight first appeared in the 2009 Spyderco Mid-Year Spyderco Catalog Supplement.
Designer
Sal Glesser
History, mentionings from the forums etc.
The Stretch CF/FRN is often referred to as the "Stretch 2" or "Stretch II", while the FRN version is also additionally known as the "Stretch Lightweight". This "Stretch 2" nomenclature was adopted by the Spyderco forum, but was incorrect, as these versions of the Stretch were based on the same pattern as the Stainless Steel and Krayton version and were therefore variations on the original Stretch. The true Stretch 2 came about in 2015 with the introduction of the brown G-10 version, which implemented design changes and used a new pattern, so became a true generational change. This was clarified by Sal after some discussion and research.
On the Spyderco forums:
Information from the Spyderco catalog on the web
C90BK
"The Spyderco Stretch has changed over the years much like watching one of your kids grow up. What started as a small basic Hunter model in the 1980s matured/stretched into an elegant high performance drop point folder available in a variety of handle materials and blade steels. The latest is a lightweight model with a black FRN (fiberglass reinforced nylon) handle. The VG-10 modified drop-point blade is ground thin and fully-flat with an arcing belly, installing itself as a winner for outdoor endeavors and carrying everyday. Turned-out with a mid-spine positioned back lock the FRN handle is injection molded and surfaced with Bi-Directional Texturing® When the palm meets the texturing tactile resistance results, stopping in its tracks forward or backward sliding under harsh, wet or slippery cutting circumstances."[1]
See also: C90 [2], C90CF [3], C90BL [4].
C90GBNE2
"The Stretch 2 is the result of a long evolutionary process that began in 1983 with the original C03 Hunter™ model. Spyderco's first knife with a drop-point blade—a style preferred by many outdoorsmen for processing game—the basic Hunter design was refined over the years and spawned a number of other models, including the Stretch™. Now that evolution has gone a step further to yield the Stretch 2.
The Stretch 2 is a reflection of the feedback Spyderco gets from the many hardcore hunters who regularly use our knives in the field. Its new profile features a slightly longer handle for increased leverage, refined ergonomics to reduce fatigue during prolonged use, and a deeper index-finger choil for an enhanced purchase with a "choked up" grip. Collectively, these subtle changes improve the user's control over the knife—especially when it is used to process game in harsh field conditions. For increased heft, the Stretch 2 features full skeletonized stainless steel liners, textured G-10 scales, and a four-position hourglass clip. Like all the predecessors in its lineage, it also features a high-strength back lock mechanism that locks the ultra-high-carbon ZDP-189 blade securely open during use and, along with its other features, makes operation of the knife completely ambidextrous.
The Stretch 2 is an extremely refined all-purpose folding knife that is ideally suited to the needs of hunters and outdoorsmen. It also reflects a proud lineage and one of the richest histories in the Spyderco product line."
The C90GBNE2 Stretch 2 in Spyderco's online catalog.
C90PGRE2
"The latest evolution in Spyderco's time-tested family of folding hunting knives, the Stretch 2 Lightweight is the result of decades of refinement based on detailed feedback from countless hardcore outdoorsmen. This elite version of the design pushes its performance envelope even further with a blade crafted from ultra-high-carbon ZDP-189 steel—a particle metallurgy tool steel with an advanced alloy composition that offers an exceptionally keen and long-wearing edge.
The Stretch 2 Lightweight's highly evolved drop-point blade profile is ideal for all field-dressing tasks. It features a full-flat grind and a breathtakingly sharp PlainEdge™ cutting edge for low-friction cutting performance. A textured index-finger choil (finger groove) and matching thumb ramp also allow a "choked up" grip for enhanced control during precision cutting tasks.
Injection molded from tough fiberglass-reinforced-nylon (FRN) and sporting the distinctive British Racing Green color associated with this elite steel, the Stretch 2's extended handle provides increased leverage and comfort. Its finely tuned ergonomics reduce fatigue during prolonged use and a deep Bi-Directional Texturing™ pattern ensures a secure grip in even the most challenging conditions. The other time-tested features of the design—including a four-position pocket clip, high-strength back lock mechanism, and fully accessible Trademark Round Hole™—make carry, deployment, and use of the Stretch 2 fully ambidextrous. The ideal game processing tool for discriminating hunters, the Stretch 2 is also perfectly suited for everyday utility use."
The C90PGRE2 Stretch 2 in Spyderco's online catalog.
Variations
The C90 is made in Seki-City, Japan and has
Stretch
| | | | | | | | | | | | |
| --- | --- | --- | --- | --- | --- | --- | --- | --- | --- | --- | --- |
| SKU | Handle | Edge | Steel | From/To | MSRP | Note | Number made | Grind | Clip | Clip positions | Collectors club |
| C90 | Stainless Steel Kraton | PE | VG-10 | 2004-2006 | 164,95$ (2006) | | N/A | Full Flat | Chrome 4-way | LH/RH, TD/TU | N/A |
| C90CF | Black CF | PE | ZDP-189 | 2007-2010 | 259.95$ (2010) | | N/A | Full Flat | Black 4-way Hourglass | LH/RH, TD/TU | |
| C90PBK | Black FRN | PE | VG-10 | June 2009-end 2014 | 129.95$ (2010) | | N/A | Full Flat | Black 4-way Hourglass | LH/RH, TD/TU | |
| C90SBK | Black FRN | SE | VG-10 | June 2009-end 2010 | 129.95$ (2010) | | N/A | Full Flat | Black 4-way Hourglass | LH/RH, TD/TU | |
| C90PSBK | Black FRN | PS | VG-10 | June 2009-end 2010 | 129.95$ (2010) | | N/A | Full Flat | Black 4-way Hourglass | LH/RH, TD/TU | |
| C90PBL | "Night Sky" Blue FRN | PE | ZDP-189 | Sept. 2009-end 2010 | 169.95$ (2010) | Replaced by the BRG colored version. | N/A | Full Flat | Black 4-way Hourglass | LH/RH, TD/TU | |
| C90PGRE | British Racing Green FRN | PE | ZDP-189 | 2011-Nov 2016 | 179.95$ (2011) | | N/A | Full Flat | Black 4-way Hourglass | LH/RH, TD/TU | |
| C90GFBKD | Black Nishijin Glass Fiber | PE | D.P.S. 15 Damascus/VG-10 | Nov. 2013 | $369.95 (2013) | Moteng distributor Exclusive | 600 | Full Flat | Black 4-way Hourglass | LH/RH, TD/TU | Variant |
| C90GFBLD | Blue Nishijin Glass Fiber | PE | D.P.S. 15 Damascus/VG-10 | 2013 | $369.95 (2013) | Moteng distributor Exclusive | 600 | Full Flat | Black 4-way Hourglass | LH/RH, TD/TU | Variant |
| C90FPGYE | Grey FRN | PE | Aogami Super Blue | March 2014 | 174.95$ (2014) | sprintrun | 1200 | Full Flat | Black 4-way Hourglass | LH/RH, TD/TU | Variant |
| C90FPBORE | Burnt Orange FRN | PE | HAP40/SUS 410 | Feb. 2016 | 184.95$ (2016) | sprintrun. HAP40 core with SUS 410 cladding. | 1200 | Full Flat | Chrome silver 4-way Hourglass | LH/RH, TD/TU | Variant |
Stretch 2
| | | | | | | | | | | | |
| --- | --- | --- | --- | --- | --- | --- | --- | --- | --- | --- | --- |
| SKU | Handle | Edge | Steel | From/To | MSRP | Note | Number made | Grind | Clip | Clip positions | Collectors club |
| C90GBNPE2 | Brown G-10 | PE | ZDP-189 | May 2015-Oct. 2018 | 349.95$ (2015) | New Stretch 2 with slightly refined ergonomics | Regular production | Full Flat | Black 4-way Hourglass | LH/RH, TD/TU | Main |
| C90PGRE2 | British Racing Green FRN | PE | ZDP-189 | Mar. 2017 - | 199.95$ (2017) | Longer handle, refined ergonomics, deeper index-finger choil | Regular production | Full Flat | Black 4-way Hourglass | LH/RH, TD/TU | Variant |
| C90PBK2 | Black FRN | PE | VG-10 | Mar. 2017 - | 134.95$ (2017) | Longer handle, refined ergonomics, deeper index-finger choil | Regular production | Full Flat | Black 4-way Hourglass | LH/RH, TD/TU | Variant |
| C90FPBLE2 | Blue-gray FRN | PE | V-Toku2/SUS 310 | Jan. 2019 | $149.95 (2019) | Sprintrun. V-Toku2 core with SUS 310 cladding. | 1200 | Full Flat | Black 4-way Hourglass | LH/RH, TD/TU | Variant |
| C90FIV2 | Ivory FRN | PE | Satin VG-10 | Nov. 2019 | $145.00 (2019) | Sprintrun. Straight spine. | 1200 | Full Flat | Chrome silver 4-way Hourglass | LH/RH, TD/TU | Variant |
| C90F2K390 | BlueFRN | PE | K390 | 2021 - | $200.00 (2021) | This model features a straight spine. | Regular Production | Full Flat | Chrome silver 4-way Hourglass | LH/RH, TD/TU | Variant |
Most collectible variation
Questions regarding collecting the C90
Some interesting questions we are looking for an answer to:
Questions with an answer:
Technical information
Measurements (mm and grams) of the C90 Stretch
| | | | | | | | |
| --- | --- | --- | --- | --- | --- | --- | --- |
| Variations | Length overall | Length closed | Length blade | Length edge | Hole Ø | Blade thickness | Weight |
| Stretch SS/Kraton | 197mm | 108mm | 89mm | 79mm | 14mm | 3mm | 128g |
| Stretch CF | 202mm | 113mm | 89mm | 81mm | 14mm | 3mm | 110g |
| Stretch FRN | 202mm | 113mm | 89mm | 81mm | 14mm | 3mm | 95g |
| Stretch 2 G-10 | 208mm | 118mm | 91mm | 79mm | 14mm | 3mm | 125g |
| Stretch 2 FRN | 207mm | 120mm | 87mm | 75mm | 14mm | 3mm | 105g |
| Stretch 2 FRN Straight spine | 208mm | 120mm | 88mm | 76mm | 14mm | 3mm | 108g |
Measurements (inches and ounces) of the C90 Stretch:
| | | | | | | | |
| --- | --- | --- | --- | --- | --- | --- | --- |
| Variations | Length overall | Length closed | Length blade | Length edge | Hole Ø | Blade thickness | Weight |
| Stretch SS/Kraton | 7.75" | 4.25" | 3.50" | 3.13" | 0.563" | 0.125" | 4.5oz |
| Stretch CF | 7.94" | 4.44" | 3.50" | 3.19" | 0.563" | 0.125" | 3.9oz |
| Stretch FRN | 7.94" | 4.44" | 3.50" | 3.19" | 0.563" | 0.125" | 3.4oz |
| Stretch 2 G-10 | 8.20" | 4.63" | 3.57" | 3.10" | 0.55" | 0.118" | 4.4oz |
| Stretch 2 FRN | 8.14" | 4.71" | 3.43" | 2.97" | 0.55" | 0.118" | 3.7oz |
| Stretch 2 FRN Straight spine | 8.19" | 4.71" | 3.48" | 3.017" | 0.55" | 0.118" | 3.8oz |
References
Pictures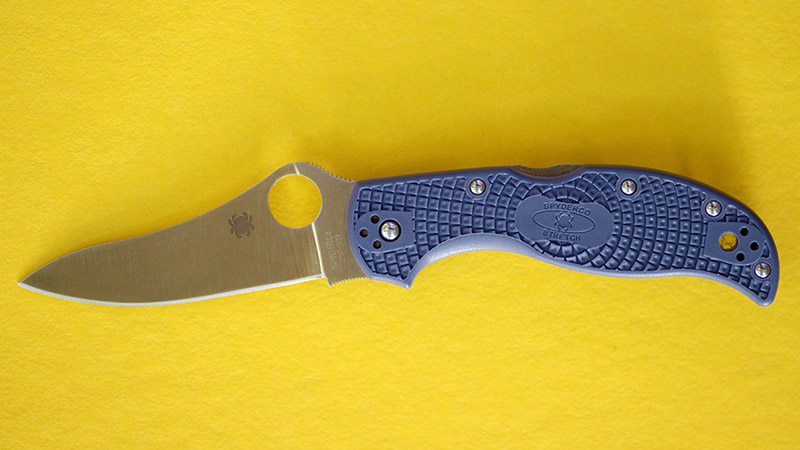 Categories