C61 Pegasus
From Spydiewiki
Jump to navigation
Jump to search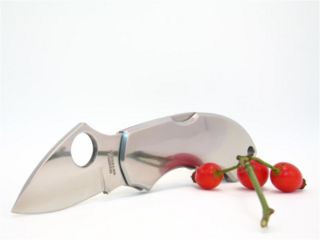 The C61 Pegasus is a small knife with a short blade designed for travel by air and business carry. It can be viewed as a descendant of the C09 CoPilot and shares very similar design goals.
Initially introduced in 1996 as the CX01 Experimental 1, in 1998 (?) this model was assigned the C61 SKU and given the name "Pegasus".
A very similar model designed and introduced in parallel to the Pegasus exists: The C62 Navigator has a slightly different and larger blade shape and a G-10 handle.
Appearance in catalogs
The C61 Pegasus appeared in the following catalogs:
1998? Ironstone (CX01)
1999 Spyderco Products (C61)
Designer
History, mentionings etc. from the forums
The Pegasus bears the distinction of beeing the first model to have a CX- Sku assigned to it, before becoming a regular production item.
The Pegasus is one of the lesser known Spyderco models and in comparison to many other models is only discussed rarely on the forums.
See e.g. the "Any Pegasus Fans Out There?" thread on the Spyderco forums.
Information from the Spyderco catalog on the web
Not listed.
Variations
The C61 Pegasus is made in Seki-City, Japan.
At least one prototype of a variation with CF handles exists.
Questions regarding collecting the C61
Some interesting questions we are looking for an answer to:
Questions with an answer:
Technical information
Measurements (mm and grams) of the C61 Pegasus:
| | | | | | | | |
| --- | --- | --- | --- | --- | --- | --- | --- |
| Variation | Length overall | Length closed | Length blade | Length edge | Hole Ø | Blade thickness | Weight |
| C61 | 130mm | 81mm | 51mm | 42mm | 12mm | 2.5mm | 80g |
Measurements (inches and ounces) of the C61 Pegasus:
| | | | | | | | |
| --- | --- | --- | --- | --- | --- | --- | --- |
| Variation | Length overall | Length closed | Length blade | Length edge | Hole Ø | Blade thickness | Weight |
| C61, CX01 | 5 1/8" | 3 3/16" | 2" | 1 5/8" | 15/32" | 3/32" | 2.75oz |
References
Pictures
Categories