C45 Rescue Jr.
From Spydiewiki
Jump to navigation
Jump to search
The C45 Rescue Jr. and its successor the C45 Rescue 79mm have been a cornerstone of Spyderco's Save and Serve lineup for many years.
Appearance in catalogs
Designer
History, mentionings from the forums etc.
Information from the Spyderco catalog on the web
"Reasons we offer smaller knives are numerous but essentially people's hands come in different sizes and we occasionally find ourselves in social situations that dictate use of a smaller blade. Many think smaller versions of the same model are simply shrunk down. Not so. For every design to reach its utmost level of ergonomic comfort and maximum performance we often take features and engineer/rework them into a more diminutive pattern. An example is our 79mm version of the Rescue Model."
"A smaller equivalent of the C14 93mm Rescue, it too has a flat saber-ground, SpyderEdge, VG-10 blade that ends in a sheepfoot safety tip. For smoother thumb rotation we enlarged the Spyderco Trademark Round Hole, which in turn creates a prominent hump to position the thumb on while cutting. The FRN waffle textured handle is available in indigo blue, black and safety orange with an ambidextrous, tip-up pocket clip."[1]
Variations.
Questions regarding collecting the XYZ
Technical information
Typical metric measurements in mm and grams. Again, a table is the preferred method:
| | | | | | | |
| --- | --- | --- | --- | --- | --- | --- |
| Length overall | Length closed | Length blade | Length edge | Hole Ø | Blade thickness | Weight |
| 181mm | 104mm | 79mm | 67mm | 14mm | 3mm | 64g |
Typical imperial measurements in inches and ounces. Same as above:
| | | | | | | |
| --- | --- | --- | --- | --- | --- | --- |
| Length overall | Length closed | Length blade | Length edge | Hole Ø | Blade thickness | Weight |
| 7 1/8" | 4 3/32" | 3 1/8" | 2 5/8" | 9/16" | 1/8" | 2.25 oz. |
References
Pictures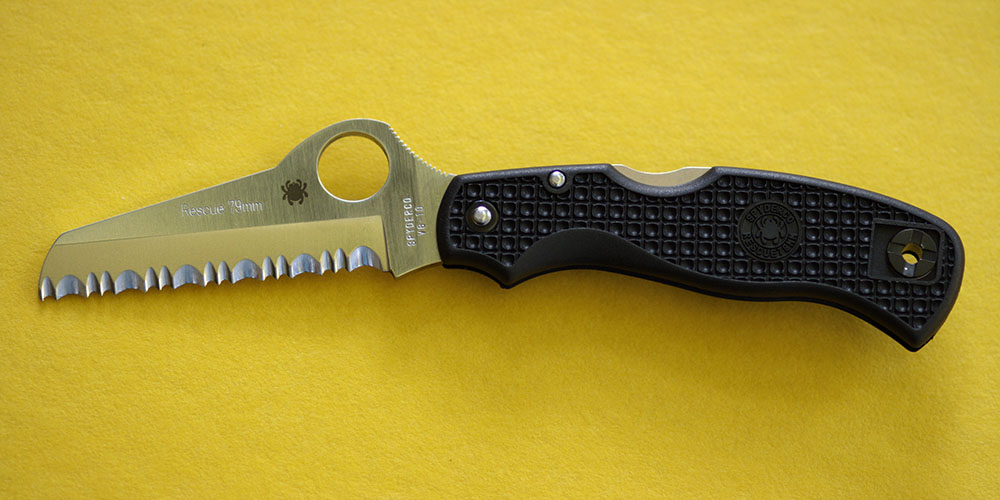 Categories