C25 Frank Centofante
From Spydiewiki
Jump to navigation
Jump to search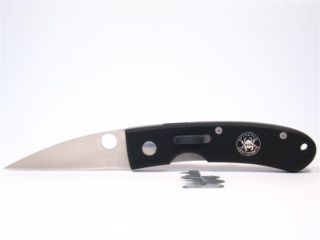 Work in progress
The C25 Frank Centofante is an early Collaboration model in collaboration with famous custom knifemaker Frank Centofante. The first knives had Aluminum handles with various colors on both handle and rubber inlays. The later model was G-10 handled, but then it appears with different color in the inlaid medallion in the handles.
The first generation of the C25 bears the distinction of beeing the only Spyderco ever to contain Filework with it's Fileworked liners.
Appearance in catalogs
Designer
History, mentionings from the forums etc.
Some interesting history from Sal on this knife from Spyderco forums can be found here
Information from the Spyderco catalog on the web
Variations of the 1. generation
Features filework on backspacer.
Variations of the 2. generation
Questions regarding collecting the C25
Technical information
Typical metric measurements in mm and grams for the Aluminum version:
| | | | | | |
| --- | --- | --- | --- | --- | --- |
| Length overall | Length closed | Length edge | Hole Ø | Blade thickness | Weight |
| 175 mm | | 72 mm | | | |
Typical imperial measurements in inches and ounces for the aluminum version:
| | | | | | |
| --- | --- | --- | --- | --- | --- |
| Length overall | Length closed | Length edge | Hole Ø | Blade thickness | Weight |
| " | " | " | " | " | oz. |
Typical metric measurements in mm and grams for the G-10 version:
| | | | | | |
| --- | --- | --- | --- | --- | --- |
| Length overall | Length closed | Length edge | Hole Ø | Blade thickness | Weight |
| 175 mm | 102 mm | 72 mm | 9 mm | 2.0 mm | 63 g |
Typical imperial measurements in inches and ounces for the G-10 version:
| | | | | | |
| --- | --- | --- | --- | --- | --- |
| Length overall | Length closed | Length edge | Hole Ø | Blade thickness | Weight |
| " | " | " | " | " | oz. |
References
Related Articles
Pictures
Categories