C168 Battlestation
From Spydiewiki
Jump to navigation
Jump to search
The C168 Battlestation by Alexandru Diaconesc (Dialex) was introduced in 2014 and is Alex's third collaboration with Spyderco.
Appearance in catalogs
The C168 Battlestation appears in the following catalogs:
Designer
Alexandru Diaconesc (Dialex)
History, mentionings etc. from the forums
Information from the Spyderco catalog on the web
Alexandru Diaconescu, better known to the knife community as "Dialex," is an economist, a talented graphic designer, and an information specialist for the Romanian police. He is also a lifelong knife enthusiast with a deep passion for Spyderco knives. The Battlestation is his third collaboration with Spyderco and represents his concept of a personal-defense knife.
The Battlestation is an extremely stout folding knife built on a framework of solid stainless steel handle liners. They are capped by textured G-10 scales that feature meticulously machined relief cuts for easy access to the blade's Trademark Round Hole™ when opening the knife. The blade of the Battlestation is a unique hybrid profile that features a slightly curved, Americanized tanto-style point and a strong saber-ground PlainEdge™ cutting edge. Ground from VG-10 stainless steel, it also features twin fullers (grooves) in the blade flats and a beveled swedge at the tip to ensure a strong but capable point. An index-finger choil at the heel of the blade allows the user to choke up for extra control and features carefully machined jimping (textured grooves) for extra grip security. For swift, one-handed opening, the blade includes a 13mm Trademark Round Hole that also unmistakably identifies the Battlestation as a Spyderco design. A reversible wire clip attached to the butt end of the handle supports left or right-side tip-up carry and complements all the other features of the knife to make its carry and operation completely ambidextrous.
The C168 Battlestation in Spyderco's online catalog
Variations
The C168 is made in Seki-City, Japan and has:
tanto-style blade
twin fullers
finger choil
Most collectible variation
Questions regarding collecting the C168
Some interesting questions we are looking for an answer to:
Questions with an answer:
Technical information
Measurements (mm and grams) of the C168 Battlestation:
| | | | | | | | |
| --- | --- | --- | --- | --- | --- | --- | --- |
| Variation | Length overall | Length closed | Length blade | Length edge | Hole Ø | Blade thickness | Weight |
| C168G | 183mm | 107mm | 75mm | 62mm | 13mm | 3.5mm | 128g |
Measurements (inches and ounces) of the C168 Battlestation:
| | | | | | | | |
| --- | --- | --- | --- | --- | --- | --- | --- |
| Variation | Length overall | Length closed | Length blade | Length edge | Hole Ø | Blade thickness | Weight |
| C168G | 7.20" | 4.23" | 2.97" | 2.44" | 0.51" | 0.138" | 4.5oz |
References
Pictures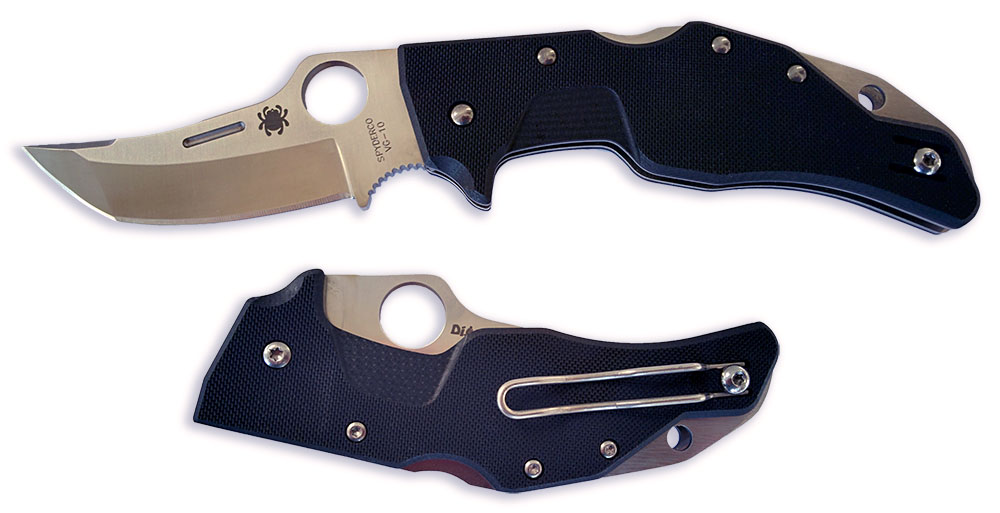 Categories