C157 LionSpy
From Spydiewiki
Jump to navigation
Jump to search
The C157 LionSpy was introduced in 2012 and is a collaboration between Spyderco and Lion Steel Knives.
Appearance in catalogs
The C157 LionSpy appeared in the following catalogs:
Designer
Lion Steel
History, mentionings from the forums etc.
Information from the Spyderco catalog on the web
C157 LionSpy:
"Unlike the SR-1's one-piece titanium handle, the LionSpy features a two-piece handle construction that consists of one black G-10 scale and one titanium scale. The titanium scale is precision machined from solid 6AL-4V titanium and serves as the basis of the knife's stout Reeve Integral Lock (R.I.L.) mechanism. Both scales are CNC machined with a series of grooves perpendicular to the handle's length to enhance its texture and ensure a positive grip. They also feature a refined shape that supports a wider range of grip styles and include a compact pocket clip that supports right-side, tip-up carry. This unique combination of materials and the knife's open-backed design reduce weight and simplify cleaning and maintenance.
To minimize lock wear, the LionSpy's R.I.L. mechanism features a hardened steel insert that interfaces with the ramp on the blade. This ensures that the mating parts have comparable hardnesses and increases both the strength and service life of the knife.
The LionSpy's lock also includes Gianni Pauletta's patented RotoLock device. This titanium disk serves as an overtravel stop for the lock bar, preventing it from being pushed too far when the lock is released. When the knife is open, turning the RotoLock approximately 1/8 turn clockwise wedges the lock bar in place, preventing unintentional release of the lock and ensuring superior stability during hard-use cutting chores. To close the knife, rotate the RotoLock counterclockwise and push the lock bar laterally to unlock the blade.
The blade of the LionSpy is ground from premium Elmax PM 170 steel. A third-generation powdered metallurgy steel from Austria's Bohler-Uddeholm, Elmax boasts high carbon and chromium contents and an extra-fine grain structure that provide extreme edge holding and corrosion resistance. The blade is a sturdy 4.5mm thick, but features a high flat grind and a pronounced "belly" for superior edge geometry and cutting performance. It also proudly wears Spyderco's Trademark Round Hole™ for positive blade deployment, even while wearing gloves.
The LionSpy is a unique collaboration that combines an award-winning design with Spyderco's distinctive style and functionality to yield a truly exceptional folding knife hard-use folding knife. We sincerely hope that you are pleased with your choice and that your LionSpy serves you well for many years to come." The C157 LionSpy in Spyderco's online catalog
Variations
The C157 LionSpy is made in Italy and has
Most collectible variation
Questions regarding collecting the C157
Some interesting questions we are looking for an answer to:
Questions with an answer:
Technical information
Measurements (mm and grams) of the C157 LionSpy:
| | | | | | | | |
| --- | --- | --- | --- | --- | --- | --- | --- |
| Variation | Length overall | Length closed | Length blade | Length edge | Hole Ø | Blade thickness | Weight |
| C157GTIP | 214mm | 117mm | 92mm | 90mm | 15mm | 4.5mm | 168g |
Measurements (inches and ounces) of the C157 LionSpy:
| | | | | | | | |
| --- | --- | --- | --- | --- | --- | --- | --- |
| Variation | Length overall | Length closed | Length blade | Length edge | Hole Ø | Blade thickness | Weight |
| C157GTIP | 8 7/16" | 4 5/8" | 3 5/8" | 3 9/16" | 5/8" | 3/16" | 5.9oz |
References
Pictures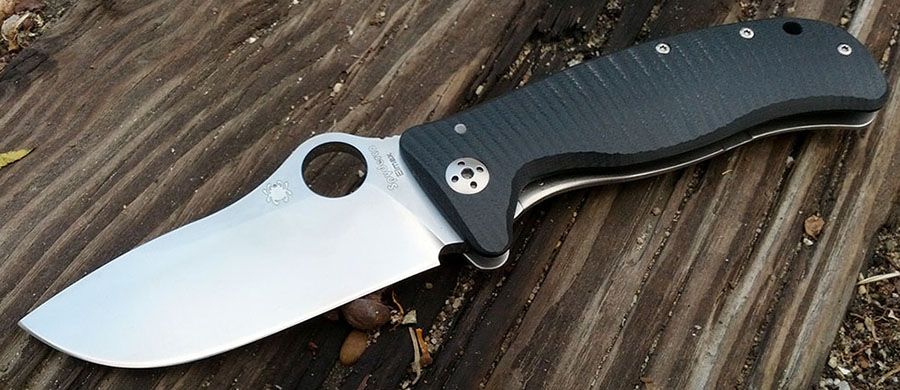 Categories