C102 Dialex Adventura
From Spydiewiki
Jump to navigation
Jump to search
The C102 Adventura was the first knife designed by a Spyderco forum member.
Appearance in catalogs
Designer
Dialex (Alexandru Diaconescu)
History, mentionings etc. from the forums
Information from the Spyderco catalog on the web
"The concept of the Adventura folder came from Romanian Technical Manager Alexandru Diaconescu. In keeping with his methodological background, the folder is techie, futuristic and fastidiously engineered to combine function with a cool factor. The PlainEdge VG-10 blade is hollow-ground with an unsharpened swedge-grind. Oblong slots cut through the blade and handle diminish weight and allow a glimpse of the knife's internal components and locking mechanism. The fully stainless handle is a composition of swells and angles inviting your hand to wrap around and grip in comfort. Both the back-lock and Spyderco Round Hole are positioned to facilitate easy single hand deployment and jimping on the blade's crown keeps your thumb in controlled contact. For added lock safety, a David Boye Dent is carved from the locking lever and eliminates accidentally releasing the lock if gripping the folder tightly. A four-way: left/right, tip-up/tip-down pocket clip attaches via three steel screws and has a rounded, tapered end that stops wear and tear on a pant's pocket."[1]
Variations
The C102 Adventura was made in Seki-City Japan.
Most collectible variation
Spyderco.com 2005 Forum Knife
Questions regarding collecting the C102
Some interesting questions we are looking for an answer to:
Questions with an answer:
Technical information
Measurements (mm and grams) of the C102 Adventura:
| | | | | | | | |
| --- | --- | --- | --- | --- | --- | --- | --- |
| Variation | Length overall | Length closed | Length blade | Length edge | Hole Ø | Blade thickness | Weight |
| C102 | 189mm | 106mm | 83mm | 70mm | 13mm | 2.5mm | 108g |
Measurements (inches and ounces) of the C102 Adventura:
| | | | | | | | |
| --- | --- | --- | --- | --- | --- | --- | --- |
| Variation | Length overall | Length closed | Length blade | Length edge | Hole Ø | Blade thickness | Weight |
| C102 | 7 7/16" | 4 3/16" | 3 1/4" | 2 3/4" | 1/2" | 3/32" | 3.8oz |
References
Pictures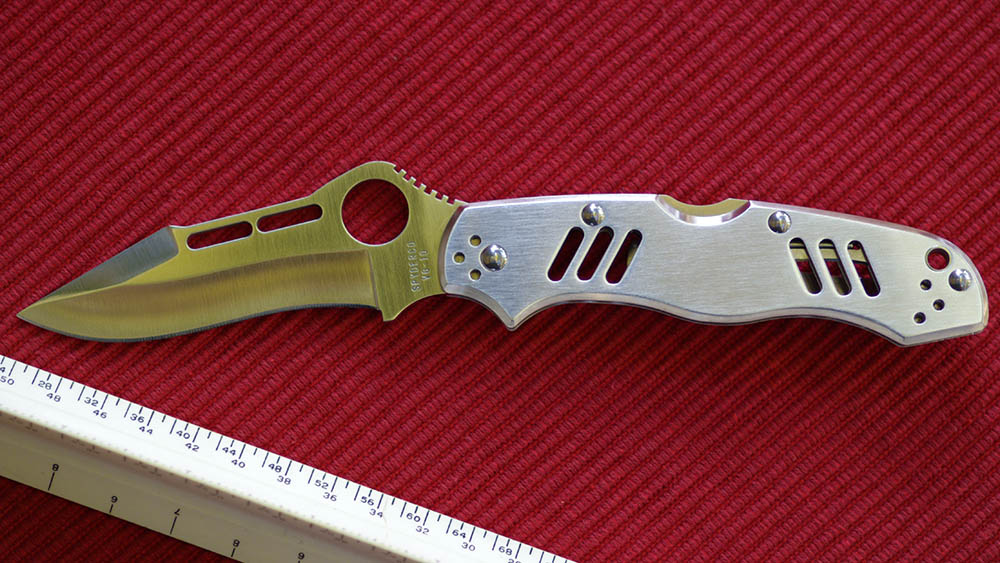 Categories