BY10 Robin
From Spydiewiki
Jump to navigation
Jump to search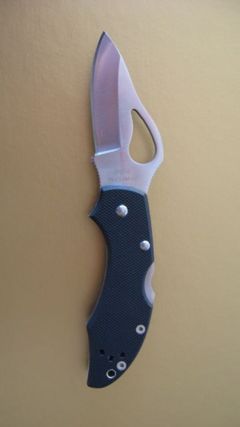 The intermediate size BY10 Robin was introduced in 2006 with stainless steel handles (Robin SS). Variations with G-10 handles (Robin G-10) and FRN handles (Robin Lightweight) were introduced in 2007.
Appearance in catalogs
The BY10 Robin appeared in the following catalogs:
Byrd 2006 (SS)
Spyderco 2007 (SS, G-10)
Spyderco 2008 (SS, G-10, Lightweight)
Spyderco 2009 (SS, G-10, Lightweight)
Designer
Spyderco
History, mentionings from the forums etc.
First comments in the Spyderco forum after the Robin SS was introduced.
Information from the Spyderco catalog on the web
BY10:
"The Robin's intermediate size makes it a winning crossover for both office or weekend carry. Its stainless steel handle is champhered for ergonomic pinch-free cutting that reduces user fatigue and discomfort. The steel handle offers just enough weight to reassuringly remind you it's in your pocket, ready when you are. Jimping (texturing) at the spine and choil keep the folder firmly in your grip creating more purchase and control even when cutting strenuously or for long periods of time. Hollow-ground, the blade is made with high carbon 8Cr13MoV and available with a plainedge or fully serrated cutting surface. A tip-up/tip-down right- hand pocket clip lets you to clip the folder inside a pocket or waistband."[1]
See also: BY10G [2], BY10BK [3]
Variations
The BY10 are made in China and all have a Back Lock with Boye dent. The Robin G-10 and Robin Lightweight variations have a screw construction.
Variations of the Robin 1
Variations of the Robin 2
Most collectible variation
Questions regarding collecting the BY10
Some interesting questions we are looking for an answer to:
Questions with an answer:
Technical information
Measurements (mm and grams) of the BY10 Robin:
| | | | | | | | |
| --- | --- | --- | --- | --- | --- | --- | --- |
| Variation | Length overall | Length closed | Length blade | Length edge | Comet width | Blade thickness | Weights |
| BY10 | 148mm | 84mm | 64mm | 48mm | 11mm | 2.5mm | 88g |
| BY10G | 148mm | 84mm | 64mm | 48mm | 11mm | 2.5mm | 72g |
| BY10BK | 148mm | 84mm | 64mm | 48mm | 11mm | 2.5mm | 61g |
Measurements (inches and ounces) of the BY10 Robin:
| | | | | | | | |
| --- | --- | --- | --- | --- | --- | --- | --- |
| Variation | Length overall | Length closed | Length blade | Length edge | Comet width | Blade thickness | Weights |
| BY10 | 5 13/16" | 3 5/16" | 2 1/2" | 1 7/8" | 7/16" | 3/32" | 3.1oz |
| BY10G | 5 13/16" | 3 5/16" | 2 1/2" | 1 7/8" | 7/16" | 3/32" | 2.5oz |
| BY10BK | 5 13/16" | 3 5/16" | 2 1/2" | 1 7/8" | 7/16" | 3/32" | 2.2oz |
References
Pictures
Categories