C22 Michael Walker
From Spydiewiki
Jump to navigation
Jump to search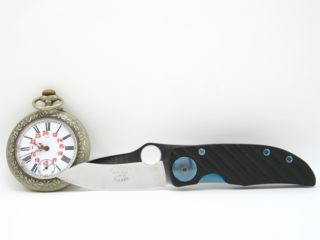 The C22 Michael Walker with carbon fiber handles was first introduced in 1994. In 1996 a Lightweight variation was introduced, initially denoted as C37 Michael Walker Lightweight, this variation's SKU was changed to C22BK in 2000. In late 1997 the CX06 Experimental 6 batch of the Michael Walker design was produced, featuring black almite coated aluminum handles. In a 2005 Sprint run another variation with blue almite coated aluminum handles was produced.
Appearance in catalogs
The C22 Michael Walker appears in the following catalogs:
1994 Spyderco (CF)
1997 Spyderco (CF, Lightweight)
1998 Spyderco (CF, Lightweight)
1998? Ironstone (Black Almite CX06)
1999 Spyderco (CF, Lightweight)
2000 Spyderco (Lightweight)
2005 Sprint Runs (Blue Almite)
Designer
History, mentionings from the forums etc.
C22CF
Extracted from a post[1] by "sal" on the Spyderco Forum:
"...

The Michael Walker C22. A Spyderco, Michael Walker, HP Klotzli collaboration. Early 90's.
First production carbon fiber handle.

First production nested Walker-linerlock.

First production colored titanium.

Only Swiss made production Spyderco.

Custom made phosphure bronze pivot.
The Carbon fiber came from the Sauber F1 race team.

The knife was built for us by HP Klotzli.
My wife, Gail carries one as an EDC.
..."
Extracted from another post[2] by "sal" on the Spyderco Forum:
"...

HP Klotzli came up with the idea for a Walker/Spyderco collaboration. He also swanted to build it. It was his idea to

use carbon fiber and he worked with Michael to develop manufacturing methods. I worked with Michael on the design.

Michael is quite a genius.
HP made the knives for Spyderco. We made the ATS-34 blades in Golden and shipped them to Switzerland. He

developed the carbon fiber and titanium mfg methods. HP does great work.
We thought about working with HP to make a slightly larger version of the C22 Walker. His wife Beah, had drawn a

beautiful larger version by incrementally extending the pattern.
..."
Historic information provided by HP Klotzli[3] (email communication 2009/03/24, informal translation from German):
A total of 1165 C22CF were produced.
The exact numbers per edge grind type cannot be determined anymore. The Spyderco order consisted of 500x PE and 500x PS.
Klotzli delivered knives with "naked" blades to Spyderco. Spyderco did the engravings and numbering on the blades.
Glossy vs. matte carbon handles: Spyderco's quality demands were high. Initially only perfect carbon handles with the glossy surface were accepted. That resulted in more than 50% wastage with the carbon. Klotzli then started matting the carbon handles, so that fine scratches (that were unavoidable during production) disappeared.
"Klotzli" vs. "Swiss made" engravings on the blade: Initially it was agreed that all three names should appear on the blade: Spyderco, Walker, Klotzli. At some point Spyderco stopped putting Klotzli on the blade (and used "Swiss made" instead).
The Klotzlis are not in possession of the drawing by Bea Klotzli of the larger version of the C22.

Other C22s
Information from the Spyderco catalog on the web
Not listed.
Variations
The C22 features a Walker Liner Lock and a spear point shaped blade.
The C22 with CF handles and titanium liners were made in Switzerland by Klotzli. Spyderco individually numbered them (exceptions?). Two CF handle types exist:
Earlier produced C22s with CF have glossy (shiny, polished) handles and later ones matte. There are also two types of engravings on the blade: The "Klötzli" put on earlier blades was later replaced by "Swiss Made". There also exist C22CF blades with lasered names and number instead of engraved (in the [1500,1699] range?). C22s with an engraved number in the 1700-1799 range have been reported.
All other C22 variations (incl. CX06) were made in Seki-City, Japan.
The low numbered early ones or the later ones are believed to be the most collectible variations, although one might say all C22's are collectible for several reasons as listed above!
Questions regarding collecting the C22
Some interesting questions we are looking for an answer to:
Questions with an answer:
Technical information
Measurements (mm and grams) of the C22 Michael Walker:
| | | | | | | | |
| --- | --- | --- | --- | --- | --- | --- | --- |
| Variations | Length overall | Length closed | Length blade | Length edge | Hole Ø | Blade thickness | Weight |
| C22CF | 149mm | 84mm | 64mm | 60mm | 12mm | 2.4mm | 42g |
| C22BK, CX06, C22BL | 156mm | 92mm | 64mm | 60mm | 12mm | 2.4mm | 44g |
Measurements (inches and ounces) of the C22 Michael Walker:
| | | | | | | | |
| --- | --- | --- | --- | --- | --- | --- | --- |
| Variations | Length overall | Length closed | Length blade | Length edge | Hole Ø | Blade thickness | Weight |
| C22CF | 5 7/8" | 3 5/16" | 2 1/2" | 2 3/8" | 15/32" | 3/32" | 1.5oz |
| C22BK, CX06, C22BL | 6 1/8" | 3 5/8" | 2 1/2" | 2 3/8" | 15/32" | 3/32" | 1.6oz |
References
Pictures
4 variations of the C22 (and/or C37 Michael Walker Lightweight ) model From the top:
C22CFP Michael Walker Carbonfibre and titanium
C22PBK (Which used to be C37 Michael Walker lightweight)
C22BLP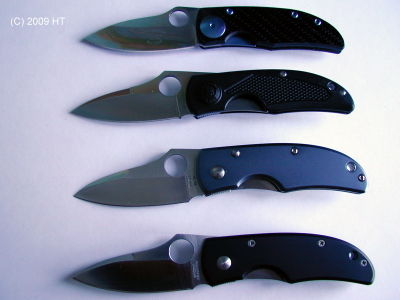 The C22CFP is distributed in a black pouch: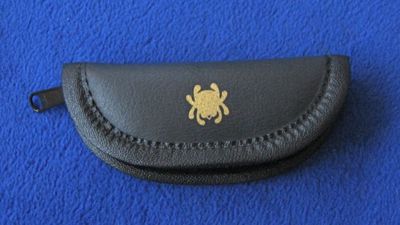 Categories