C147 Navaja
From Spydiewiki
Jump to navigation
Jump to search
The C147 Navaja by Ed Schempp was introduced in early 2011 and is part of Spyderco's ethnic series.
Appearance in catalogs
The C147 Navaja appears in the following Spyderco catalogs:
Designer
Ed Schempp
History, mentionings etc. from the forums
Some thoughts on the Navaja [1] by Ed Schempp.
Information from the Spyderco catalog on the web
Unique to the Navaja is the Carraca or ratcheting sound it produces when the blade opens and closes. Carraca ratcheting generates a reaction similar to the sound of chambering a round in a firearm, distinctively announcing the knife's presence and has been attributed to deterring a criminal or criminal behavior.
American Knifemaker Ed Schempp built a reputation on comingling Ethnic cutlery with the modern folder. His Spyderco Navaja collaboration incorporates the mystique of the Carraca with a traditional-shaped handle made with textured carbon fiber and stainless steel bolsters. The blade is Crucible Steel CPM-S30V with the customary Navaja concave blade shape.
Inside the handle is a Michael Walker LinerLock with a textured liner. Outside the handle is an hourglass pocket clip with four-way compatible positioning, enabling the knife to be carried and drawn from the pocket tip-up/tip-down and/or left/right handed. The Spyderco Navaja showcases a form of historical and cultural cutlery made using modern materials and design engineering. The C147 Navaja by Ed Schempp in Spyderco's online catalog
Variations
The C147 is made in Taichung, Taiwan and has
customary Navaja concave blade shape
Carraca ratcheting sound
Most collectible variation
Questions regarding collecting the C147
Some interesting questions we are looking for an answer to:
Questions with an answer:
Technical information
Measurements of the C147 Navaja
| | | | | | | |
| --- | --- | --- | --- | --- | --- | --- |
| Length overall | Length closed | Length blade | Length edge | Hole Ø | Blade thickness | Weight |
| 219mm | 121mm | 98mm | 80mm | 13mm | 3mm | 145g |
| 8 5/84" | 4 3/4" | 3 7/8" | 3 5/32" | 1/2" | 1/8" | 5.1oz |
References
Spyderco Designer's Insight Series video interview with Ed Schempp on the design of the Navaja.
Pictures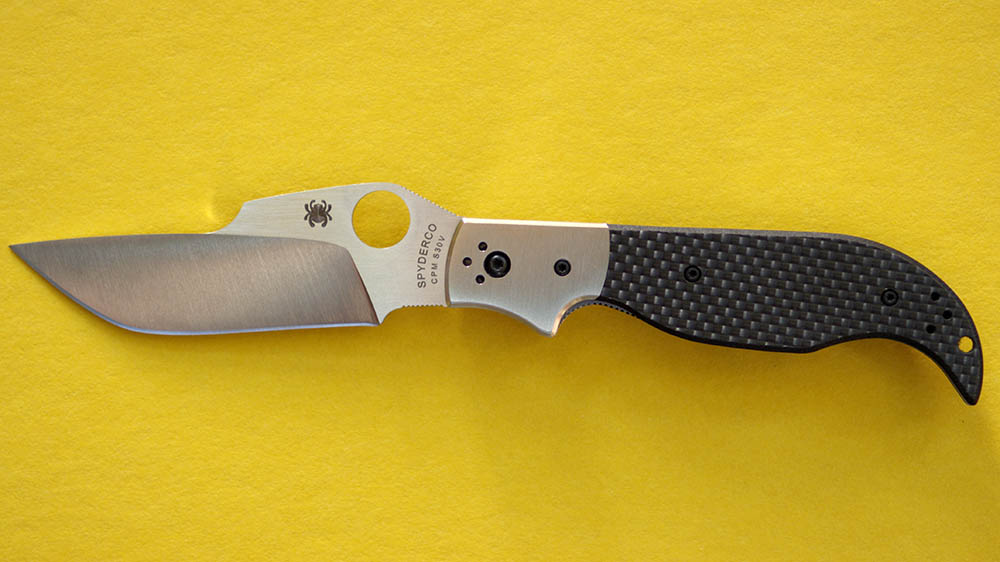 Categories