C116 SuperHawk
From Spydiewiki
Jump to navigation
Jump to search
The C116 SuperHawk features was introduced in 2008. It features a hawkbill blade and carbon fiber handle.
Appearance in catalogs
The C116 SuperHawk appeared in the following catalogs (older, newer):
2008 Spyderco Mid-Year Product Supplement
2009 Spyderco Products
Designer
History, mentionings from the forums etc.
Information from the Spyderco catalog on the web
C116:
"Nothing is more appropriately engineered for downward, pulling cuts than a Hawkbill blade. The tip's curve holds what you're cutting against the sharp edge for failsafe, downward-motion cutting, done at arms length. On that same note, nothing says high-tech more than a carbon fiber handle and VG-10 steel blade. The outcome of paring state-of-the-art material components with the Hawkbill blade shape is the SuperHawk.
VG-10 blade steel holds court as one of the hardest performing knife steels in the industry today. A high percentage of carbon and cobalt earn its honors for cutting aptitude and edge retention. Full flat-ground, the blade is available PlainEdged. The handle is peel ply carbon fiber, an ultra light laminate with formidable tensile strength and a woven texture that sticks to the palm putting the brakes on forward or backward sliding. Left- right-hand wire clip is pocket friendly, clipping the knife to carry deeply while being easy on the fabric."[2]
Variations
The C116 SuperHawk is made in Seki-City, Japan and has a
Most collectible variation
Questions regarding collecting the C116
Some interesting questions we are looking for an answer to:
Questions with an answer:
Technical information
Measurements (mm and grams) of the C116 SuperHawk:
| | | | | | | | |
| --- | --- | --- | --- | --- | --- | --- | --- |
| Variation | Length overall | Length closed | Length blade | Length edge | Hole Ø | Blade thickness | Weight |
| C116 | 200mm | 119mm | 89mm | 71mm | 14mm | 4mm | 125g |
Measurements (inches and ounces) of the C116 SuperHawk:
| | | | | | | | |
| --- | --- | --- | --- | --- | --- | --- | --- |
| Variation | Length overall | Length closed | Length blade | Length edge | Hole Ø | Blade thickness | Weight |
| C116 | 7 7/8" | 4 11/16" | 3 1/2" | 2 3/4" | 9/16" | 5/32" | 4.4oz |
References
Related Articles
Pictures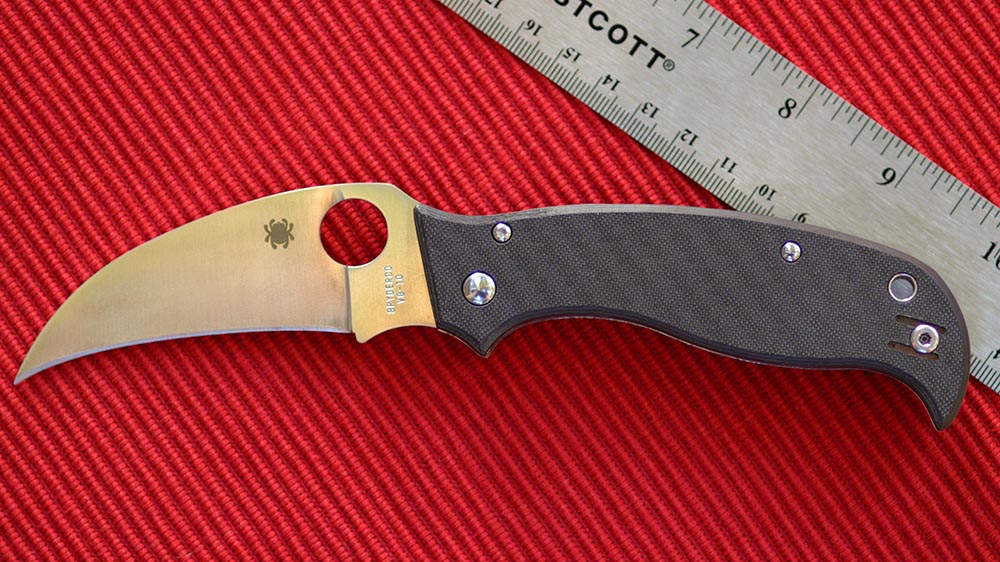 Categories